500 Books Before Middle School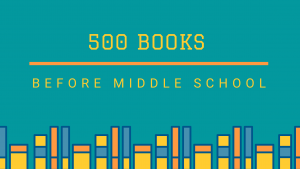 Build Reading Skill and become a lifelong reader! This program is for student in Kindergarten to Sixth grade.
Here's how the program works:
Register at the library circulation desk.
Record the titles on your log.
When you finish 50 books, bring your log to the library and receive a small prize.
Repeat steps 2-3 for each 50 books.
Books read for a class assignment count do count for this reading challenge.