The Wisconsin Digital Library has expanded its digital collection with the addition of OverDrive Periodicals. This new collection feature over 80 popular digital magazines and newspapers.
Library card holders can check out periodicals on the same digital library website where they currently borrow eBooks, digital audiobooks and streaming video titles. All that is required is a valid library card and a NOOK account. Titles can be read via NOOK tablet device or Free NOOK Reading App available for a multitude of smartphones and tablets. Free in-store support and expertise are always available from the booksellers at Barnes & Noble's more than 650 bookstores across the U.S.
To get started, click the OverDrive Read icon on the bottom of our website.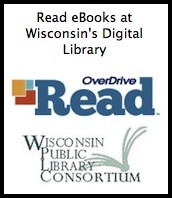 For more information on how the get started using digital periodicals, use these helpful links
Getting Started WITH NOOK PERIODCALS
Getting Started WITH NOOK PERIODICALS VIDEO