Preschool Story Time to Go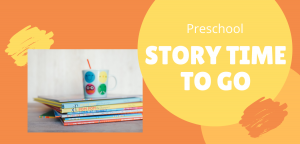 Each week, Miss Elaine prepares a story time theme. this program is open to children of preschool age.
How it works
Stop in at the library to register your preschool age child.
Child will receive a program folder containing theme activity sheets including coloring page and song or poem sheet.
Stop  at the library each week to pick up theme craft and book.
Story time books count towards 1000 Books Before Kindergarten program.