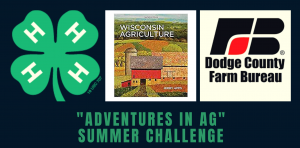 We are excited to partner with Dodge County Farm Bureau and the Dodge County Farm Bureau Women's Committee to offer agriculture-related activities and activity booklets to enrich at-home learning during  August 2020. We are also offering the chance to win some fun, agriculture prizes!
To get your family started, request one of three modules from the library. We hope that you will have fun doing these activities and learning about the important business of agriculture with your family. Stop into the library or call 920-928-3223 to schedule a curbside pick-up when you are ready for another module.
Other cooperating organizations include Wisconsin Women for Agriculture-Rock River Chapter and Emerald Clovers HCE. 4-H Clubs partnering with their community library include: Juneau Victorians 4-H, Sinissippi 4-H, and Trenton Highlights 4-H Club.